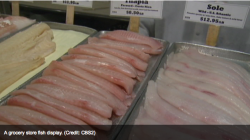 NEW YORK (CBSNewYork) — Imagine never having tasted a salad, a burger, or a bowl of spaghetti. Not because you're allergic, but because the food disgusts you.
As CBS2's Kristine Johnson explained, it's a real eating disorder for more and more adults who are sick of food.
"To me, it's like urine or feces being mixed in," Alexandra Logue said.
For Logue, just the thought of eating fish makes her sick to her stomach.
"What I have for seafood is classified as disgust, which means I can't even make contact with it," Logue said.
Logue's severe food aversion started when she was a child and didn't end there.
"I've gotten better. I will eat salad now. I will eat asparagus or broccoli if I have to," she said.  View full article on CBS NY