News
Concerning our work on a successful alternative to math remediation published in Education Next:  http://educationnext.org/reforming-remediation-college-students-mainstreamed-success-cuny/
List of Articles and Other Media Coverage About:
Logue, A. W., Watanabe-Rose, M., and Douglas, D. (2016).  Should students assessed as needing remedial mathematics take college-level quantitative courses instead?  A randomized controlled trial.  Educational Evaluation and Policy Analysis, 38, 578-598.  PDF available at: http://journals.sagepub.com/doi/pdf/10.3102/0162373716649056 .  Open access version available at: http://academicworks.cuny.edu/cgi/viewcontent.cgi?article=1263&context=gc_pubs
Gelman, A. (2016, December 30). Statistical modeling, causal inference, and social science. Blog. Retrieved from http://andrewgelman.com/
Stratford, M. (2016, June 23). Rethinking college remediation. Politico's Morning Education.
What we are reading. (2016, June/July). Higher Ed in Brief: Higher Education at the Charles A. Dana Center.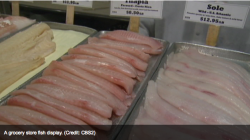 NEW YORK (CBSNewYork) — Imagine never having tasted a salad, a burger, or a bowl of spaghetti. Not because you're allergic, but because the food disgusts you.
As CBS2's Kristine Johnson explained, it's a real eating disorder for more and more adults who are sick of food.
"To me, it's like urine or feces being mixed in," Alexandra Logue said.
For Logue, just the thought of eating fish makes her sick to her stomach.
"What I have for seafood is classified as disgust, which means I can't even make contact with it," Logue said.
Logue's severe food aversion started when she was a child and didn't end there.
"I've gotten better. I will eat salad now. I will eat asparagus or broccoli if I have to," she said.  View full article on CBS NY